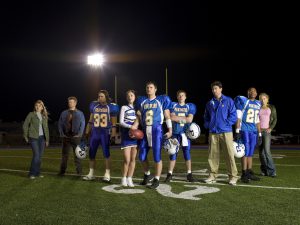 Friday Night Lights is an American drama television series based on the 1990 books by Buzz Bissinger, and the 2004 movie of the same title. Friday Night Lights is widely acclaimed and remains a popular, unflinching drama series based on the lives of the high school football crazy residents of Dillon, Texas. Here are some interesting and honest facts about Friday Night Lights which are bound to amuse you, if you have watched the series:
Zach Gilford was working at a sports goods shop when he was cast in FNL as Matt Saracen
Zach Gilford and another actor were shortlisted for the role of Matt Saracen. The other actor was doubled booked to audition for another movie. Hence, the role was given to Zach.
Minka Kelly used to work  in a plastic surgery clinic when she was cast in FNL
Minka Kelly, who played the role of Lyra Garrity. She had to work as a scrub nurse for breast implants and lip implants in order to meet her ends, before auditioning for Friday Night Lights.
Majority of the Dillon High School students were not teenagers
When Friday Night Lights started off in 2006, Jesse Plemone was 18 years old, and Aimee Taegarden was 17. The others, all of whom played the roles of teenagers were much older. Minka Kelly was 26, Zach Gilford was 24, Adrianne Palicki was 23, and Taylor Kitsch was 25.
Friday Night Lights was shot in Austin
Friday Night Lights was the first television, which was shot in Austin, the capital of Texas after The Real World in 2005. It reflects upon the culture and traditions of Texas.
The uniforms and football footage were taken from The Pflugerville Panthers
Some actual footage from the Plfugerville High School's football matches was merged with the taped footage in Friday Night Lights. This was done for creating the game action.
All the actors could not play football
Several actors cast in Friday Night Lights such as Gaius Charles, who played the part of Brian Williams were not much into football and did not how to play. However, Michal. B. Jordan, who played Vince Howard was a skillful quarterback in real life. Taylot Kitsch was a hockey player for 20 years and was an excellent athlete.
There were no rehearsals
While shooting each scene, three camera operators followed the cast wherever they went, simultaneously. The actors wore body mics so that their voice was audible in spite of being away from the camera. This process helped in cutting down the production time to almost eight hours every day.
Chandler worked as a volunteer firefighter while the series was filmed
Chandler used to work 24 hours a week at the local firehouse with the cast and crew having no idea about it.
The football did not stop after the filming of FNL ended
At the wrap up party of the series, the entire cast and crew travelled to Midnight Rodeo in Austin. There, they played touch football at 2am in the morning on the football ground.
There are plenty of aspects about Friday Night Lights, which make this series an exceptional one compared to other drama series which are released nowadays. With a punch of all the important elements of life, Friday Night Lights is a special television series which is worthy of watching.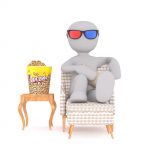 It really is a quite difficult to conceive a realistic approach for a TV Show and then earn the sizeable audience that the show actually deserves. Same has been the case with Friday Night Lights; it had the exceptional realistic plot that included the deep exploration of central America and also some very sound characterization of the cast but still failed to achieve the targeted number of audience.