Friday Night Lights is a television series related to American drama which revolves around the story of a football team of Dillon high school in Texas. This series is created by Peter Berg and produced by Sarah Aubrey, Brian Grazer, David Nevins and James Katims. This series is based on the book written by H.G Bissinger in 1990 on which a film was also made in the year 2004.
The stars of this show are as follows: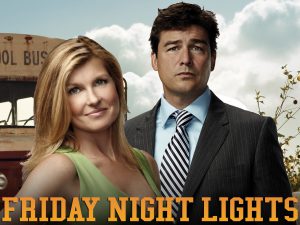 Eric Taylor ( Kyle Chandler)
He plays the role of Panthers' football coach in the series. He is shown in the series as a person trying to achieve a balance between his work and family life. He is dealing with a community that is confrontational and it is also depicted that how he follows his personal ambitions.
Tami Taylor (Connie Britton)
She plays the role of wife of Eric Taylor. She depicts the role of a guidance counselor who has turned to the position of principal at the school named Dillon High.
Julie Taylor (Aimee Teegarden)
She plays the role of a teenage daughter in the family.
Jason Street (Scott Porter)
He is playing the role of a school football player and is shown to suffer from a spinal injury that will lead to an end in his football career. He becomes paraplegic. He struggles with his disability and a series of changes in his life.
Lyla Garrity (Minka Kelly)
She plays the role of Jason's girlfriend. She is dealing with changes in her own life. She was a Panther's cheerleader and then she transitioned to become a Christian youth leader.
Matt Saracen (Zach Gilford)
Due to Street's condition he becomes starting quarterback in the Panthers. He is shown as a reserved guy. He is shown dating Julie.
Lorraine Saracen ( Louanne Stephens)
She is depicting the role of grandmother of Matt and he is the only caretaker for her as his father is a soldier in Iraq.
Landry Clarke (JessePlemons)
He is shown as the best friend of Saracen.
Carlotta Alonso (Daniella Alonso)
She is playing the role of nurse in this series.
Brian Smash Williams (Gaius Charles)
He is shown as a person who is working to get a football scholarship in college.
Tim Riggins (Taylor Kitsch)
He is shown as an alcoholic person with family issues which are complicated in nature
Billy Riggins (Derek Phillips)
He is shown as the brother of Tim Riggins. He acts as a caretaker for Tim.
Tyra Collette (Adrianne Palicki)
She is shown as a vixen of the town who wishes to leave Dillon in search of a better life. She is shown to have a complex relationship with Landry Clarke.
The stars in this television series are depicting different shades of various characters. You will get to see some of the very fine performances by these stars in this series. It depicts the story around the life of football players, their daily life, the struggles they are facing, their hope to win and give their town a reason to joy. The low and high points in life are brilliantly depicted and how everyone comes together to get victory is beautifully shown.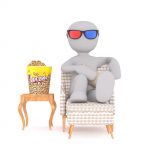 It really is a quite difficult to conceive a realistic approach for a TV Show and then earn the sizeable audience that the show actually deserves. Same has been the case with Friday Night Lights; it had the exceptional realistic plot that included the deep exploration of central America and also some very sound characterization of the cast but still failed to achieve the targeted number of audience.